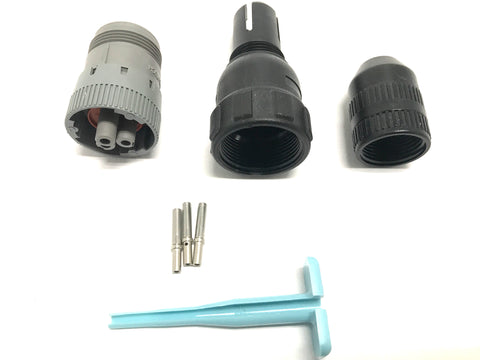 SG-KIT-HD-3-F - 3 Pin Female Kit - Deutsch - John Deere Attachment Side | Skid Steer Genius
Fits John Deere 3 Pin Only.  Includes 3 sockets & tool.  You will need to solder or crimp wires to pins.  These are the original OEM connectors used on all of the machines and not a poor quality knock-off.  With decades of experience, you can count on us to supply you with everything needed in this kit.  Others sell you just a part and you have to find and order the accessories just to make this connector work.  We do it all for less.
Kit Includes:

1 Female Deutsch 3 Pin Body Connector


1 Backshell Top Cap

1 Compression Nut/Strain Relief

3 Female Sockets


Installation Tool
Kit does not include crimping tool or soldering tool to connect pins to wire.
---
We Also Recommend
---
Is there a metal version of this connector?

This is the original Deutsch connector.  I have never seen a metal one.

what does the back of connector look like? i have a john deere db84 the has 2 wires coming off of the solenoid. Running it with a John Deere 320G. will this work?

Yes.  This is correct.

I am hoping this is the male connector for the 3 pin female on the left loader arm. JD 325g compact track loader. Trying to run a grapple with a hydraulic solenoid on it.

YES.  This is the connector that goes on the attachment side.

i have 2 wires how do i wire this