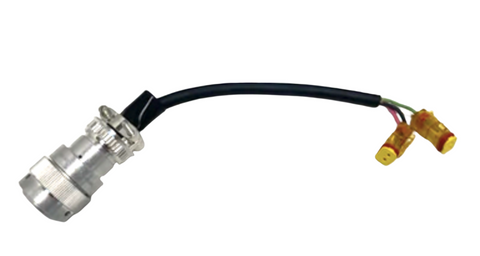 SG-PP2-8 | Cat, Terex, ASV 8 Pin Plug and Play Dual Adapter
Use this plug and play adapter if you have up to two solenoids to operate that have existing 2 pin Deutsch receptacles and you need to connect to your 8 pin connector on your machine.  This ingenious jumper features a special 2 pin plug that has an embedded LED in the plug so that it gives you an indication immediately that everything is connected perfectly.
It comes pinned out for the most popular machines around including Cat A,B,C Series, ASV & Terex.

---
We Also Recommend
---
I need to know what the end of this connecter looks like.

As in the pin out?

I have a Cat 257B and am looking for an adapter to go from the 8 pin on the loader to a 2 pin Deutsch plug. It's a Chinese power rake (TopCat) that needs power to the actuator/remote so I can control the tilt. Not sure how to tell if the solenoids are 12v or 24V.

How about this?

CLICK HERE

I have a 2008 Cat 277c withe the 8 pin connector, I am trying to hook up to a Machinability snow v-plow and it has a 9 pin Deutcsh plug like a data link connector in commercial trucks, do you make an adapter that will work?

I cannot find anything about this plow so I suspect it is an auction plow from China.  I will need lots of pictures of the connections to see what we are dealing with.  Also verify the solenoids as many times they arrive as 24 volt and will not work.

How long is this cable? I need approximately 5-6' from my Terex PT-110 to my post driver attachment.

10" overall.  This is just the adapter.  You can buy extension harnesses per your needs from the site.

IS THIS THE ATTACHMENT SIDE (FEMALE) OR THE MACHINE SIDE I'M LOOKING FOR THE ATTACHMENT SIDE FOR A CAT BROOM ON A CAT 257 B

This is a special adapter that we have built for our harnesses.  What is already on the attachment?  If nothing, you should buy the following.

CLICK HERE

I'm trying to connect my bobcat chipper to my 2020 cat 299 D3. please let me know what parts I need.

Here is the kit - CLICK HERE

Here are the instructions - CLICK HERE