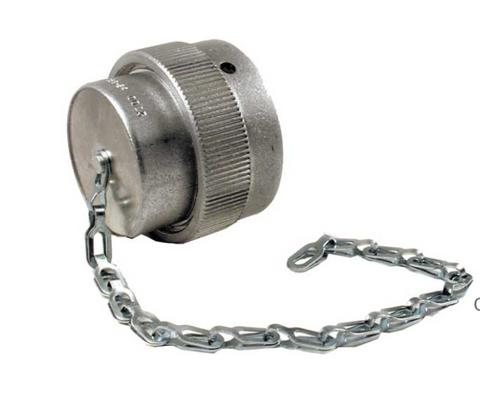 Dust Cap - Machine Side - 8 or 14 Pin Deutsch | Skid Steer Genius
If you have damaged or lost the aluminum dust cap that came on your machine to cover your 8 or 14 pin connector, then this is for you. 
Works on all major brands using Deutsch 8 pin or 14 pin connectors including Old Bobcat, Cat, John Deere, Volvo/ASV, Kubota, New Holland, Doosan, Case & Takeuchi.
---
We Also Recommend
---
Will the Dust Cap fit my Cat 287C skid steer ?

Yes.  A Cat 287C uses an 8 Pin Deutsch connector.

Does this fit the machine side of the CAT D Series Skid steers?

Correct.

will this fit a Takeuchi TL8 14 pin connector?

Correct.  It will fit.

will this dust cap fit the 14 pin connector for a Kubota 90-2?

Yes they will.

I need the o-ring for the inside of the machine side eight pin male deutsch also the dust cap for the same.

I have never seen an O-ring on these.  The dust caps are in the parts and connector sections of our site.

Well this cat for a Case TV 380 loader arm electrical connector

Yes.  If it is a 14 pin.

You have two dust caps listed. Which one is for the SG-KIT-DT-14-F connector. Assumed this was part of the kit so now I'm $8.50 shipping because this was not mentioned in not included list. Is this the correct dust cap?

I am sorry that you did not read the listing as it plainly shows exactly what is included. Here it is again. No where does it show that we include a dust cap as 99.9% of our orders are for only the connector. Kit Includes: 1 Female Deutsch Body 1 Barrel Top Cap and Seal/Strain Relief 14 Female Sockets Installation Tool Detailed Instructions Tailored for Skid Steer Use If you bought a connector for the attachment side, then you would choose that attachment side connector. If you want a dust cap for your machine, then you would choose the machine side connector.

Is this the Deutsch HDC36-18 part? I want to make sure this fits my 2018 ASV RS-75 8 PIN.

This is the dust cap that will screw onto your machines 8 pin connector.

Will it fit a 2012 volvo mct125c

Yes, it will work.

Will this fit a SVL 97-2 2021 Kubota skid steer?

Yes

Will this fit a sr270 case

Yes.  It will fit.

I'm looking for a dust cap for the attachment side. Do you have that?

Will this fit a John Deere 317g

Yes.