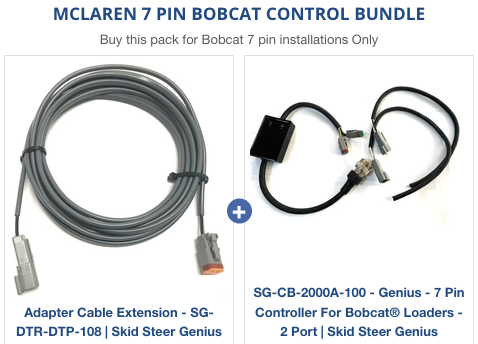 BOBCAT 7 PIN CAN TO MCLAREN ATTACHMENT KIT
Buy this pack for Bobcat 7 pin CAN to Mclaren attachment installations only.  This kit gives you one Deutsch output for controlling single solenoid Mclaren attachments.  The machine side features our 2 channel CAN controller that will plug right into your 7 pin connector on your machine.  Also included is the extension harness which goes from your control solenoid back to the end of your hoses.
---
We Also Recommend
---
I was advised by Mclaren to purchase this connector for my Bobcat T740 and a six way dozer blade. After connecting the dozer blade I am only able to tilt the blade one way. It won't return or tilt the other direction. Do you have a wiring diagram or instructions on how to properly install this kit? Thanks

It's a simple on/off control.  You have to use your pump controls for direction.  CLICK HERE FOR A VIDEO

Does this kit come with the connection on the Bobcat? And installing process.

It comes with the controller that plugs into the Bobcat and the harness that extends to the attachment.

Is this a universal item that fits all machines?

It fits all Bobcat's using 7 pin controls.

Is there a way we can pay another way because we have neither PayPal or venmo

We use neither.  Credit card is the only way to pay.