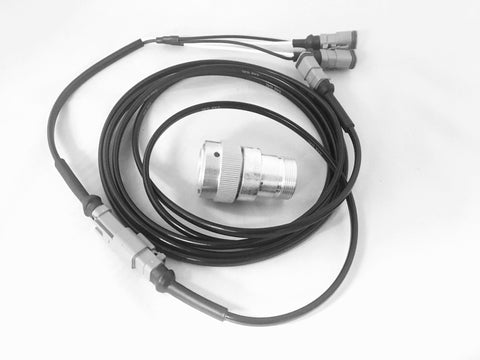 Genius - 14 Pin - Cat Dozer Blade Kit - SG-BC14-CT-DOZER | Skid Steer Genius
This allows you to use your Cat Dozer Blade on any machine with 14 pin connections.
Use this adapter to plug directly into your Caterpillar dozer solenoids and then directly into our 14 connectors to operate on a Bobcat, Kubota, New Holland, John Deere, Mustang, Takeuchi and even Cat D-Series 14 Pin.  This kit is necessary because Cat uses two opposing solenoids that need to trigger at the same time.  By installing this adapter you are tying the trigger points together and allowing just one plug to go to our controller so you will only need to push one button to make it actuate.  
The dozer will work by angling side to side without any electronics.  Just hook up your hoses.  To make the blade tip, you need to trigger the solenoid to move your flow to the secondary cylinders.  You will still need to turn on your pump by moving your right joystick toggle from side to side.
---
We Also Recommend
---
Will this work on my jcb 320t, have a 2005 model cat 6 way blade

If your JCB came with a 14 pin connector on the boom and some kind of switches on the stick, it will work.

I NEED TO GO FROM A CAT 6 WAY DOZER BLADE TO A BOBCAT T250 WITH A 7 PIN CONNECTOR. WHAT DO I NEED?

How about this?

https://www.skidsteergenius.com/products/bobcat-7-pin-caterpillar-dozer-kit?_pos=3&_sid=3e06ac40e&_ss=r

I bought your adapter for cat blade to bobcat 14 pin. Plugged it in and won't work. Sets off a light on warning panel . What is wrong? Would like a little help with this .

Pictures of what's plugging in where please?

I want too run power rake and a grader blade from bobcat on a 289 d cat skid steer what adapter do I need

CLICK HERE TO OPERATE A BOBCAT SOIL CONDITIONER ON A CAT

CLICK HERE TO OPERATE A BOBCAT GRADER ON A CAT

Does this kit include the 14 pin connector with the pigtail? Also if the plugs have been stripped off the dozer blade wires, what part # plugs do i need?

The plugs are molded into the solenoids so if they were really stripped off you have a big problem and will need to buy new solenoids.  Yes.  Everything is included that you see in the photo.

We have a SSL/DZ79 Cat Dozer we also have a T770 Bobcat Skid steer. Is there a adapter harness to adjoin the two units for proper control between the two units? Thanks Mike

Here is the kit.

https://www.skidsteergenius.com/products/bobcat-7-pin-caterpillar-dozer-kit?_pos=3&_sid=f853d9a13&_ss=r

I have a cat 6 way blade and a TL 10 Takeuchi skid steer? Is this what I need?

Yes, this is the correct item.

Will this product work on a case TR310

If you have a Cat dozer blade it will.

Have a 19 svl75 with 14pin. Trying to wire up my 6 way cat dozer blade. The blade has multiple connectors on it. Currently hooked up it is not operating all 6 functions. Any thoughts on this?

If it has a 14 pin, at the end it Y's off and plugs into two valves.  When you push the correct power button inside your cab, both valves will trigger.  While holding that button, you can angle the blade using your right hand toggle.  Let go of the button and you use the same pump control toggle to tilt the blade.

I have a John Deere 325 and bought a cat dozer model prssdb001267 Is this the right harness

Yes this is the correct harness.

I have a CAT dozer 231-5275 and I need to hook it to a bobcat S150 but Bobcat has no wiring attachment. what do I need?

Using our Bluetooth relay is the least expensive way of doing this.  You will also require a Y adapter to connect it to the two relays.

https://www.skidsteergenius.com/collections/frontpage/products/attachment-control-bluetooth-relay-sg-ac-10?variant=31854333493303

https://www.skidsteergenius.com/collections/bypass-cable-kits/products/genius-y-adapter-for-cat-dozer-blades

can i have some more info on this and picks. got a cat dozer blade im trying to run on a kabota svl 90

The Y just plugs into your two solenoids and that's it.


I have a 6 way dozer blade attachment and ski gear sure this will work on a car 257 b? Thanks

This is to attach a Cat dozer blade to a Bobcat or similarly wired machine.

I have a 2007 Bobcat T-300 and I won't to attach a cat. 6-way dozer blade. Is this what I need and does it just plug in line?

Correct if your machine has a 14 pin connector.  It will not work on a 7 pin connector.
__________________________________________________________________

I have cat 231-5275 dozer blade I need to hook up to 2021 bobcat t770 what do I need

If the dozer blade has a 14 pin connector installed, you can use the following controller.

CLICK HERE

I have a John Deere 323e and I'm trying to run a Cat 6-way dozer blade on it. Both units have a 14-pin connector, but I'm not getting any tilt function, only angle. Can you help?

Move the ground in your machine from A to B and it will become universal.  I cover it at length in our FAQ found HERE

I have a kubota svl 97-2 i bought a new cat dozer blade both have a 14 pin plug the machine has 9 pins and the blade has 5 pins whe you wiring harness work

If they are both equipped with a 14 pin plug, then just plug it in and go.  It will work.  You don't need us.

I have a case tv380 and a cat 231-5277 cat dozer blade. Is this the correct adapter?

Yes.  It is correct.  Case wires the same as Bobcat 14 pin.

I have a 2005 cat 277b and just bought a 6 way dozer blade. My machine dies not have any electric plumbed into it and I need to figure out what electric cable it needs and how to wire the 6 way blade up that has 2 solenoids with 2 wires coming from each solenoid. I don't know the name brand 6way. Any help would be greatly appreciated.

Did you buy it at RB Auctions?  That's usually why there is no brand because they are being dumped from China.  If that is the case, I just need a photo of the solenoid to know what to do. 

BTW: These are very light weight blades so your 277B might be too much for it.  Time will tell.

I have a 289D3 Cat skid steer that has the 14 pin. I am wanting to use a Bobcat 6 way dozer blade that has the 7 pin cable on it. What is the part number I need to make it work?