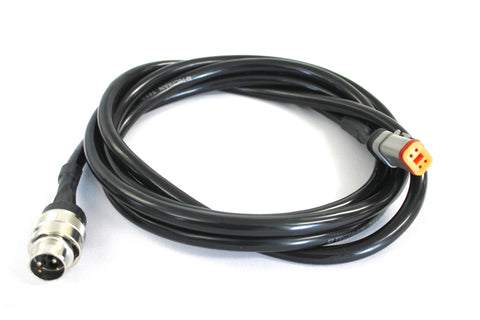 SG-CBC-108 - Genius - 7 Pin Controller Cable - 108"
108" Replacement Cable - 7 Pin on one end, 4 Pin Deutsch on the other.  Use with CB-4000/6000 only.
DO NOT ATTEMPT TO CONNECT THIS DIRECTLY FROM YOUR ATTACHMENT TO YOUR BOBCAT.  This is a replacement cable meant to connect to our controllers only.  Serious damage to your machine can occur.  Please head this warning!
One end plugs into your Bobcat while the other plugs into our Genius CB-4000 & CB-6000 controllers.
Disclaimer: 
This is not a Bobcat® product.  This product is not endorsed by Bobcat®.  We are in no way attempting to make you think this is a Bobcat® product. This product is optically isolated from the controls of your machine and can in no way damage your machine or controls.  It is perfectly safe to use and will not damage a thing.  If a dealer is attempting to tell you that your warranty will be voided if you use this product or that it will damage your machine, please call and report it to us.  Skid Steer Genius is a specialty controls company.  Our goal is to make anything you buy for your machine work on any machine.  Others design and build in such a way as to stop you from doing this.  
Bobcat®, the Bobcat logo and the colors of the Bobcat machine are registered trademarks of Bobcat Company in the United States and various other countries.
Bobcat Company is a subsidiary of Doosan Infracore Bobcat Holdings Co., Ltd., a wholly owned subsidiary of Doosan Infracore Co., Ltd.
All rights reserved.
---
We Also Recommend
---
Do you make a a longer cable with the same ends?

Sorry we do not.  There is no attachment that we know of that would need anything longer.  What are you working on?

My question is not about this particular cable. I have a Bobcat s595 awith a 7 pin outlet connector. I also have a 15 +/- year old Bobcat V-plow. My controller is not sending any signal as I have tested signal at the 4 hydraforce coils. do you have a harness to go from 7 pin Bobcat to 4 Deutch?? connection for the 4 Hydraforce coils?. My terminology may be confusing

Yes.  You are confusing.  Please send me photos so I can diagnose.

Do you have these in inventory?

Always.  This is a replacement cable for our controllers.  This is not meant for anything else.  Do not try to splice this into anything or you will be sorry.

Do you make an adaptor to connect a Bobcat S630 with the 7 pin connector and I have added the 14 pin connector that will hook up to a Virnig snowblower V50. The 14 pin connector that came with it was attached to a John Deere skid steer and does not work with my Bobcat. If you don't make one that connects to the wiring harness, do you make one that I could hardwire together.

We produce them for Virnig with their connector.  We do not sell them directly.  Currently there is no stock but we should all be caught up soon.  Please contact Virnig and get on their list.

I'm looking to replace my 7 pin connector and cable on my Toolcat 5600. Is the SG-CBC-108 - GENIUS - 7 PIN CONTROLLER CABLE - 108" compatible?

That is an attachment harness.  Machine harnesses need to be sourced from a Bobcat Dealer.  We recommend Lano's in MN @ 1-763-207-9823.  They are fast and friendly and stock a lot of parts.

Looking to replace my existing 7 pin connector and cable on my 2014 Toolcat 5600 Serial # AHG811918 and need to know which of your part numbers is the one? Thanks - Mark

Sorry but we do not do any machine work.  You need to give this information to a Bobcat dealer and buy the harness there.