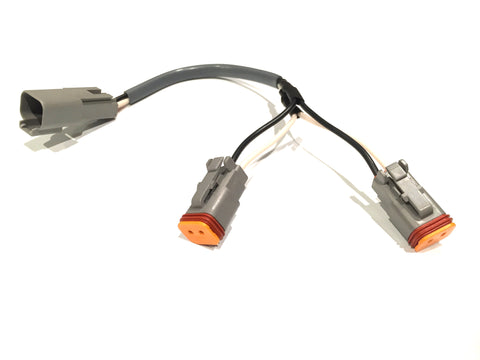 Genius - Y Adapter For Cat Dozer Blades - SG-Y-DT | Skid Steer Genius
This Y adaptor allows you to use your Cat Dozer Blade on a Bobcat.
Use this adapter to plug directly into your Caterpillar dozer solenoids and then directly into our Canbus controllers to operate on a Bobcat.  This adaptor is necessary because Cat uses two opposing solenoids that need to trigger at the same time.  By installing this adapter you are tying the trigger points together and allowing just one plug to go to our controller so you will only need to push one button to make it actuate.  
The dozer will work by angling side to side without any electronics.  Just hook up your hoses.  To make the blade tip, you need to trigger the solenoid to move your flow to the secondary cylinders.  You will still need to turn on your pump by moving your right joystick toggle from side to side.
---
We Also Recommend
---
I have a 2021 new Holland 345 can you help me with an adapter for a topcoat articulating brush mower connection 9709872973.

These Chinese auction attachments are a real problem. 

CLICK HERE FOR THE STANDARD HARNESS

Our harnesses are general and should plug and play, however depending on which label they stick on these things, the hook up is always different.  Please double check the connections before you order. 

I inspected one of these mowers and they are death machines.  Make sure you remove all of the blade bolts and replace them with at least grader 8 bolts with a proper locking device on each.  Run it for a few minutes and re-tighten everything as these things have a habit of self destructing the first time you use them.Check that blade carrier every time you use it.  These are copies of the CID swing booms but you can easily see why they are so cheap.  There are no warranties or liability insurance should this thing make your wife a widow.

I have a John Deere 331g skid steer with a cat deer blade. Do you make a harness so the blade will be functional. Thanks

Why is there no harness on the blade?  Can you send a photo to show me what you have?  JD blades are Paladin blades which use a single solenoid.  This is usually the kit that will work.
https://www.skidsteergenius.com/collections/bypass-cable-kits/products/genius-14-pin-cat-dozer-blade-kit-sg-bc14-ct-dozer-skid-steer-genius


Have a Cat 299D3 XE want to used Bobcat Grade Blade with 2&3D Laser and GPS

Do you have a schematic for how this was rigged up?  Or, is it Bobcat equipment using the Gateway controller in the blade?

What is the canbus controller

It is all explained in our FAQ section found here.  https://www.skidsteergenius.com/apps/help-center#!bobcat-7-pin-machine-and-attachments-explained

I have a Cat Dozer blade I want to use on a S570 Bobcat and need to know which adapter I need to make happen. Thank you