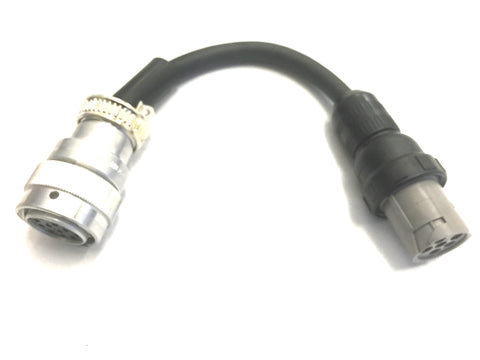 SG-CT08-HD14 - Machine Side CAT 8 Pin to Attachment Side CID
Here's a Genius idea.  Why not allow people with CID Swing Boom Cutter run them on their Bobcat Skid Steer Loader?  This adapter does just that.  Just plug one end into your Cat/ASV/Terex Loader and plug the other into your CID attachment equipped with an 6 pin connector.  Turn on your machine and get to work.  This is another Genius product.  The best ideas at the best prices.
---
We Also Recommend
---
I ordered the SG-CT08-HD14 for my ASV and it does not work. My manual says that pins B,C,D & G are where the electrical current is supplied. Your harness has B,C,D,A & H pins supplied.

There should have been a tool supplied where you can move H to G.  It takes 2 minutes.  A is the ground on both brands so 3 of the 4 functions should work.

I have a cat 272c skid steer and just bought a bobcat snowblower need machine cat to bobcat electrical connector is this the right connector?

NO.  Not even close.  PLEASE CLICK HERE

which connector do i need to mount a bobcat 7 pin attachment to a terex 8 pin skidsteer

It depends on the attachment.  That is why we created this look up table so anyone can quickly see what is needed and read about the reasons why.  Just click the link below.

https://www.skidsteergenius.com/pages/choose-your-harness-here

I'm looking for a cable to connect a bobcat snowblower to a trackcat. is this the right connector? do you ship to Canada.

If the Bobcat snow blower is a 14 pin, then yes.  If it is a 7 pin small connection, you will need a bypass harness.

is this a plug and play. new holland c232 to cid swing boom cutter?

Yes this is if it came with thie mate to the HD connector.

where is the one for bobcat 7 pin?

That currently does not exist.  We are working on it.  For now you will have to use harnesses.  Here is the selector. 
https://www.skidsteergenius.com/pages/choose-your-harness-here

Here are more details.
https://www.skidsteergenius.com/apps/help-center#!bobcat-7-pin-voltage

Where is the CAT D series 14 pin one? Need for CID hyd. angle broom.

Here you go. You can use the Bobcat style one because it shares the same 4 pins for the first 4 controls so they are the same. Just copy and paste the link below. href="https://www.skidsteergenius.com/collections/adapters/products/copy-of-sg-bc14-ct8-machine-side-bobcat-14-pin-to-attachment-side-cat-terex-asv-8-pin"

I have a cid swing boom cutter. Will this adapter SG-CT08-HD14 work on my Case TV380

No it will not.  It is an 8 pin connector.  You need a 14 pin connector.

CLIQ HERE

Looking to confirm the Cat D series machine side 14pin to a bobcat CID broom. The link posted in a previous question doesn't work anymore. Looking to purchase right away. Thanks!

CAT D SERIES Machine - Yes.

Is the attachment a CID with a round connector or a Bobcat brand broom?  You are stating both in your question and they are entirely different.