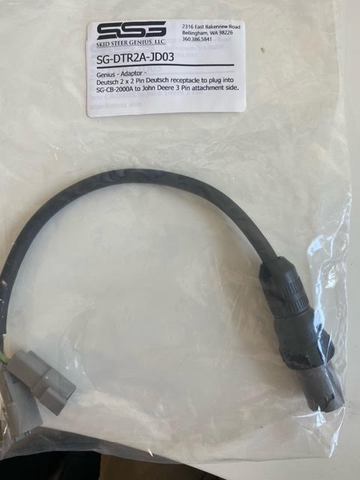 SG-DTR2A-JD03 - 2 x 2 Pin Deutsch to 3 Pin John Deere Plug
This adapter allows you to plug one end with 2 x 2 pin Deutsch receptacles into a our SG-2000A CAN Controller on your Bobcat machine side and plug directly into up to your John Deere attachment utilizing their 3 pin plastic plug.  Just plug one end into your controller on your loader and plug the other into the solenoids on your John Deere attachment.  Turn on your machine and get to work.  This is another Genius product.  The best ideas at the best prices.
Works great on Landscape Rakes.
---
We Also Recommend
---
I need the John Deere 3 pin to Two female two-pole Duetsch connectors.... the opposite of what's on this harness (SG-DTR2A-JD03 - 2 X 2 PIN DEUTSCH TO 3 PIN JOHN DEERE PLUG) Can I buy this harness from you, with the female instead of the male?

You can buy the parts and make it yourself in the parts section.  We no longer make one off items.  50 piece minimum for custom items now.