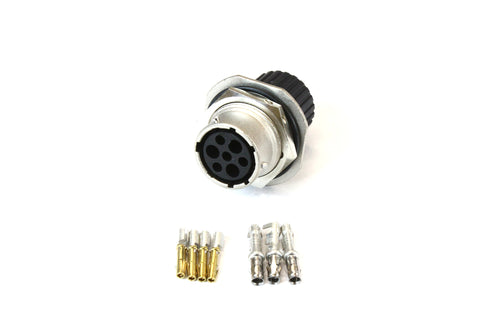 SG-KIT-TRIDENT-F - 7 Pin Female Connector for Bobcat - Machine Side | Skid Steer Genius
Machine Side Connector - Female  
Fits Bobcat only. From the moment we released our attachment side kit, our email and phones have been inundated with people having the following issue. I had a tree fall on my machine and it hit the connector and ruined it. Can you get me the machine side connector as my dealer won't sell just the connector and they want me to replace the harness for over $350. Once again, our blood started to boil that such a simple item for the manufacturer to supply was made so difficult. For us it took 6 months to get the connectors and we had to buy a lot of them, but in the end our customers have come to rely on us to deliver the Genius Solutions that mean so much to them. Starting in January 2014, we will be stocking the machine side kits for a lot less than the manufacturer wants for the full harness. Just another reason to shop Skid Steer Genius for all of your product needs. 

Kit Includes:

1 Female Trident Body

1 Barrel Top Cap and Seal

1 x Locking Nut


3 x Female Sockets

4 x Female Canbus Sockets

Installation tool not required

De-Installation Tool is not supplied at this time because they are very expensive. If you find something that works, please share it with us so that we can pass it on to others.

Kit does not include crimping tool or soldering tool to connect pins to wire.

About these connectors:
We have had so many customers complain that when they damage the connectors on their machines, their dealers will not sell them a new connector. Instead they are forced into buying a whole new wiring harness just to get the connector. Some of these harnesses cost as much as $500. This is crazy! 

Since we buy huge volumes of the attachment side connectors, we were able to buy the machine side for the same great price. They were next to impossible to find and we finally had to blindly buy 100 units and wait for 16 weeks just to see if they were the right connectors. It has paid off for us and now it will for you. Buying these in bulk allows us to offer just the connector with pins for a much better price. We bring these in and kit them with everything you need to repair your harness. We are sure you will see just how much effort we put into this item just to save you money.
Warning.  This connector is meant to replace a damaged connector.  Do not attempt to change an 8 pin or 14 pin connector by just changing it out for this connector.  You will damage your attachment.  There is a small computer controller installed farther down the harness on the attachment.  Regular attachments do not have this so you could possibly ground out one of the Can lines on your Bobcat and then it is lights out.  Call us if you have any questions before you try anything.
---
We Also Recommend
---
Do u have the male fitting as will

Right next to it on the page.

https://www.skidsteergenius.com/collections/electrical-connectors/products/7-pin-male-connector-for-bobcat-attachment-side

Why are you more expensive than the bobcat deal. 6727176 $85.00

Because we have to buy them on the open market that Bobcat controls.  I have heard that they don't give you everything and you have to find the pins and the strain relief on your own.  Customers don't find out until the kit arrives and then they call us for the missing pieces.  May have changed because of us kitting them but Bobcat never allowed you to buy this.  They made you buy the entire harness before we came along.  Prices have also doubled in 2021 and our lead times went from 2 to 54 weeks.  If you can find them, buy them is my advice as we may be out of them in a couple of months as we have no new shipments until 2023.

Hello, I would like to get an offer for this plug with shipping to Poland.

You can buy these at any Bobcat dealer in Europe as they come from the eastern block.

Dear Sir,are you able to supply the male connector to go into the female on tha Bobcat?

Sure.  it is right next to this item on the ordering page.

CLICK HERE

i have a bobcat 863 ,the 7 pin connector machine side is sheared off,the harness the dealer ordered had delphi connector on it and my machine has a 12 pin deutsch ,it seems like there are more wires than pins ,will this plug work on my machine

Send me a photo please.  There is no use guessing what you are looking at because your descriptions are wrong.

Is crimping these female connector good enough or should I solder also...and what kind of crimping tool is needed.

I always used to solder until I invested in expensive crimping tools.  It is easy to wreck these sockets.

I am wondering where and how much the tool is to disassemble the female(machine side) of the 7 pin socket assembly. I also question why you don't do what a lot of other facilities do? Rent the tools out with an extraordinary deposit. One that might easily cover the costs associated with the tool cost and all the others costs if the tool is not returned. When the tool is returned refund the majority of the deposit minus you mailing costs etc. It works for Oreilley's Auto parts so I think it would work for you. If not at least provide a part number so those of us with a machine sitting idle with a replacement part on the shelf can do the repair without experimenting on a good machine and get back to work.

That's a good idea except we use a fulfillment company that costs a fortune to ship and receive.  Whenever we have to pass these charges onto the customer, we get a lot of push back.  They can be purchased on eBay but we do sell the single use tools.  Here is the link.

https://www.skidsteergenius.com/collections/electrical-parts-tools/products/bobcat-7-pin-can-and-power-removal-tool-set


Thank you for the quick reply - quick follow-up question. What gauge are the wires in the harness? I may have to extend my wiring as it got sheered off a bit back from where the connector goes. Thank you.

In the machine?  No clue.  The range would be 14 - 18 gage.

Hi, I bought your 7 pin female connector and am going to attempt to install it this weekend. I saw your wiring instructions today in your FAQ, but does the connector identify which hole is pin 1, 2, 3 etc? (I left the connector up at my vacation property, where my machine is, and want to ensure I have all I need when I go up this weekend) Thank you.

The face and rubber grommet has the letters and numbers imprinted on it.  Make sure you have a good crimping tool and know how to use it.  These connectors are tricky.

My email is seanh@hansenmueller.com. For the question on what crimping tool is required for pins.

This is the tool that we find works best for us. 

https://www.ebay.com/itm/Weatherpack-Crimper-Tool-Crimping-Delphi-Weather-Pack-Metri-Pack-Connectors/174059484095?_

What Is the Crimping tool required to attach the pins?

I use these.

CLICK HERE

Will this work for the S2 50 bobcat

If you are replacing a damaged connector on your machine, yes.

I have a Ryans grapple attachment that has 3 wires, 2 hot and one ground that I need to get connected to my Bobcat T650. Can I use this connector and what would be the pins that I would need to connect to on the 7 pin on the machine to use the controlers to operate the 3 wires. The wires run a divertor box that runs 2 valves that either open/close the grapple or when activated it will rotate the grapple either direction. The attachment was made for an 8 pin Male on an ASV RC60 and now I'm using a T650. 8 pin has 3 wires connected to a,b,and G. G was ground and A and B where hot. Can this be done?

What you are saying does not make sense.  

First.  Read this and understand why you cannot do this. https://www.skidsteergenius.com/apps/help-center#!why-is-there-no-adaptor-to-plug-my-7-pin-bobcat-attachments-into-my-catkubotanhjohn-deere-etc-machines

Second.  You state that it came from an ASV which mean 8 pin control and not hot.  It is momentary.  For ASV A & E are Ground.  B, C, D & G are momentary hot from your button controls.  

Please do not attempt to plug anything directly into your 7 pin connector on your machine.  You wil only create problems for yourself.  You can plug our controller based solution in only.  You can find it here.

https://www.skidsteergenius.com/collections/7-pin-controllers/products/sg-cb-4008-genius-7-pin-4-output-8-pin-output-controller-for-bobcat-loaders-toolcat-versahandler-4-port-skid-steer-genius

I just broke the machine side of my bobcat electrical area. 'Log fell out of bucket' is this the piece I need I have the cap still. I have a 2008 s185.

This is the correct kit to change out the machine side connector.

is there a wire diagram included my connector is totaled and I just have the pins hanging so I do not know where each colored wire goes

Yes.  It is located here.  https://www.skidsteergenius.com/apps/help-center#!bobcat-7-pin-wiring

Do you have a dust cap for the 7 pin female connector machime side with chain and loop?

CLICK HERE

Not identical but the best we could come up with.

are these in stock?

Yes.

How do I remove the old female connector? Do I remove the face plate that holds the connector and the hydraulic quick connects?

I am guessing that you have a newer Bobcat machine where they feed the cable through the boom.  Yes, it is a nightmare to remove it.  You can spin the nut off from the front but connect a string to it so you can pull the new one back through the boom.  The hydraulic lines are really tight so you have very little wiggle room.

Can I buy just the 7 pins that go on the wires? I bought a used machine that came with a replacement connector and no pins...your help is appreciated. Thanks