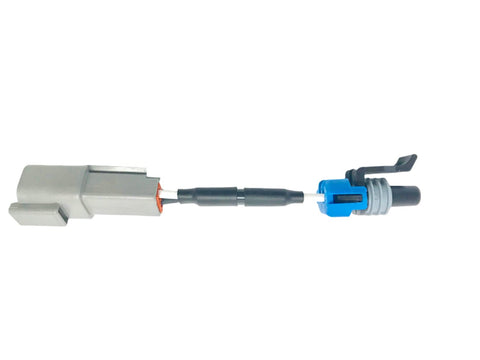 Adapter Deutsch to Delphi - SG-DT2-DP2 | Skid Steer Genius
This adapter works for changing the male end plug of your cable that has a Deutsch plug to a Delphi Metripac.  A typical use would be that you changed one or all of your solenoids in your Bobcat attachment to Hydraforce.  These adapters allow you to keep your harness and just adapt it.
---
We Also Recommend
---
I have a 2018 Bobcat T770 and I just bought a Harley rake M6H and a Paladin 6 way dozer blade. My dozer blade came with a control box and a single female deutsch cord. The Harley rake has a 3 pin male on the machine end and 2 female deutsch for attachment end that connects to the solenoid. Is there a product that plugs into my 7 pin on the Bobcat that will operate both attachments?

Can you send me photos of these connectors please as that does not sound correct.

Hello, I have a John Deere 330G and would like to run some Bobcat attachments from a rental company. But I need an adapter for the electrical. Do you have what I need? Thanks!

Not really since you have to put it back to how you got it.  JD and Bobcat do not work well together.  I make items to strip out the Bobcat controllers but you need to be able to put them back.  JD does not give you a Powered Pin K so it is not possible to use the Bobcat controllers with a temporay harness either.  I would suggest that you just rent elswhere and avoid Bobcat liek the plague.