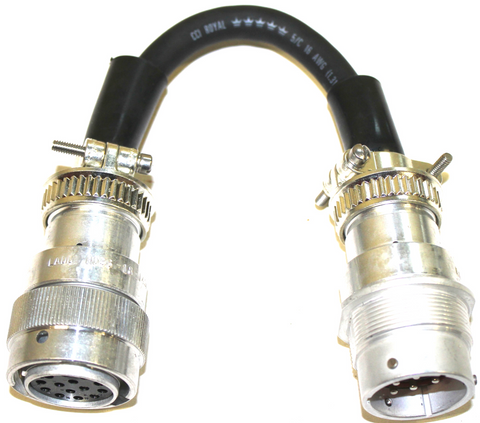 SG-BC14-BC14-GR - Bobcat Grader Side Shift Adapter| Skid Steer Genius
This is the side shift enable harness only.  It is listed so you can re-order this piece if you damage yours.  You cannot use this as a stand alone harness. 
Here's a Genius idea.  Why not allow people with a 96 or 108" Bobcat Branded Grader to run that grader on any brand of machine?  This adapter is part of a solution that does just that.  Just plug one end into our Genius Super Controller and the other end into your 96/108" Grader T-Harness and all of the functions that you used to have on your Bobcat have now been transferred to your "Insert Brand Name Here".  Yes, it does not matter what brand of machine you have, you can now run a Bobcat Grader on it. With a Super Controller installed, just plug it in and enable your side shift and get to work.  This is another Genius product.  The best ideas at the best prices.
Note:  Also with Kubota, Cat, Gehl, Mustang, New Holland, Case, Gehl, JCB/Volvo, Takeuchi & Yanmar loaders.  You name it and it will work.
Note:  Additional harnesses are needed for this item to work.  It is your responsibility to make sure you have these harnesses installed in your machine for this adapter to work. 
Here is a typical install.  From the Bobcat controller located inside the rear cover of the grader, you will require a T-Harness which feeds down your hydraulic lines and provides a 7 and 14 pin connection.  Make sure you have this already installed on your blade.  If you do not, order this item. 7164095.
Once you know this is installed, then you will be able to use a 14 pin controller to operate the grader.  The only one that is currently capable of operating the grader is the Genius Super Controller.  You can purchase that by clicking here.
---
We Also Recommend
---
We have accidentally pulled pins out of the male end socket. Could you email wiring diagram?

Yes.  Respond to this email and I can send it.

This adaptor does not show a face view of the pins/socket. I am try to see if it will work for case to cat but it is hard to tell. Is it possible to get a picture of the faces of this adaptor?

This is a specialized adapter for our grader.  This will never work.  I need the Case model and year and the Cat model and year.  What are you trying to run?